Smooth Geocell
HDPE Smooth Geocell (GeoFanCell)
Product Description
Smooth Geocell (GeoFanCell) is an innovative cellular product that provides cost effective solutions for subgrade stabilization, erosion control and channel protection. GeofanCell is a lightweight, flexible cellular structure made of polyethylene strips, ultrasonically bonded together to form an extremely strong configuration of individual cell structures that confine soil or aggregates. Smooth Geocell (GeoFanCell) is a Three-Dimensional cellular confinement structure. Smooth Geocell is properly expanded on-site to form a honeycomb-like structure which can be filled with sand, soil or other site material. The functions of Smooth Geocell(GeoFanCell) are erosion control for slopes, drainage ditches, channels as well as geomembrane protection for landfills and reservoirs, geocellular walls offer strong, durable, green earth retention walls for cost-effective sub-grade stabilization.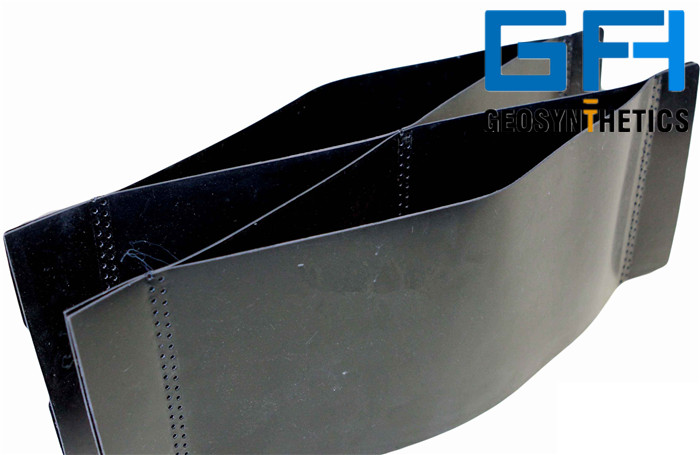 The Specification of Smooth Geocell (GeofanCell)
(* MINIMIUM ORDER QUANTITY: 20'ft Container)
Mechanical Properties

Units

Standard

Large

Weld spacing

mm

330

660


Cell depth

mm


50,75,100,


150,200,300

50,75,100,

150,200,300
The Applications of Geocell (GeofanCell)

Horizontal Applications - Geocell (GeofanCell) can be laid horizontally and filled with any site-won fill to provide instant subgrade stabilization by reducing the lateral displacement of aggregate materials, thus offering improved design life and reduced rutting.
Slope Erosion Control - the individual cell structures of Geocell (GeofanCell)onfine the movement of soil material along the exposed surfaces of cut slopes during rain events. The pockets can be filled with topsoil to promote vegetal growth, which will further reduce erosion.

Channel Scour Protection - when filled with aggregate Geocell (GeofanCell) is used to protect hydraulic channels against scour action by increasing shear resistance.
Geocell (GeofanCell) can be supplied perforated (as the photograph illustrates) to allow free-flow of water and can be supplied with plastic fixings for easy and rapid installation.
Geocell (GeofanCell) are also used in Load Platforms, Soil Stabilization, Retaining Walls, Slope Erosion Control, Tree Root Protection, Flood Defence & Earth Retaining Walls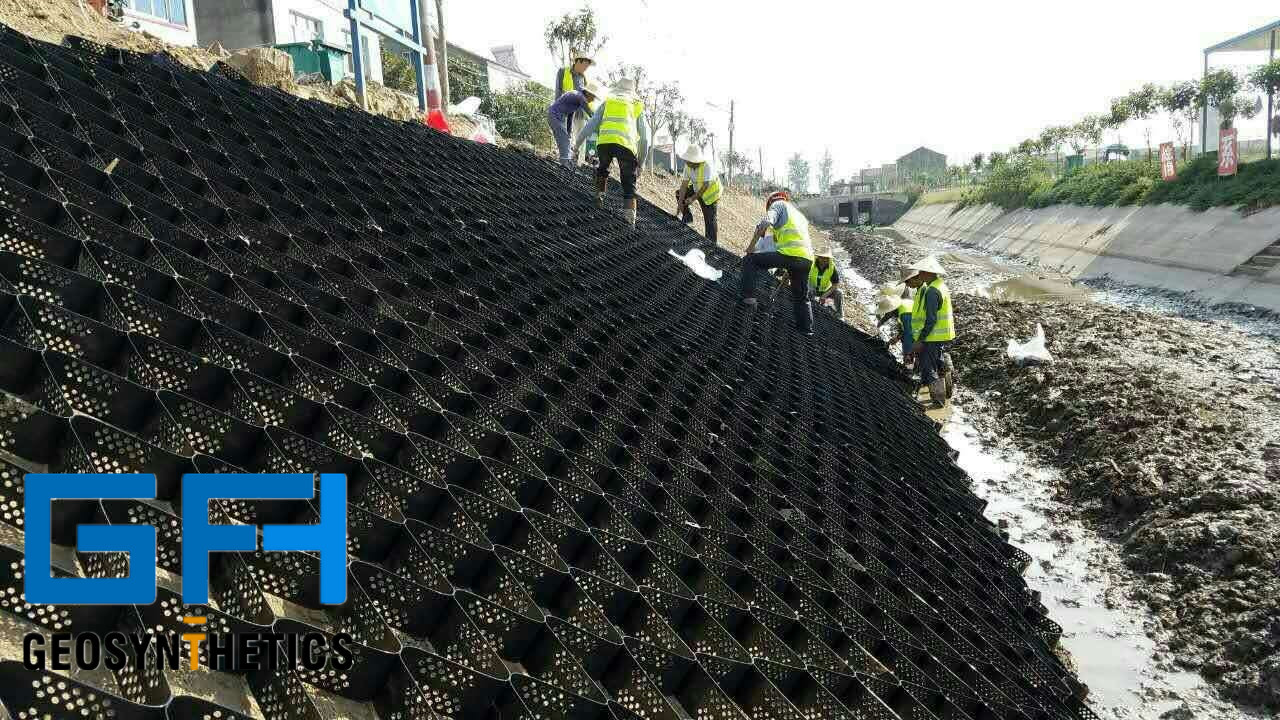 Product Guarantee
GeoFanTex Geosynthetics have make a seris of garantee for our products both plant processing and selling out to our customers. The selling to you is the first step, the service and guarantee is our task. GeoFanTex Geosynthetics have an ISO Certificate to guarentee tthe raw material, the product processing and end product. From receiving your order to placement and installation of the products, we have solved the problems in time if you need, whatever the quanlity and technics guideline or suggestions. Our company has been committed to supplying high-quality products with reasonable price and delivery in time.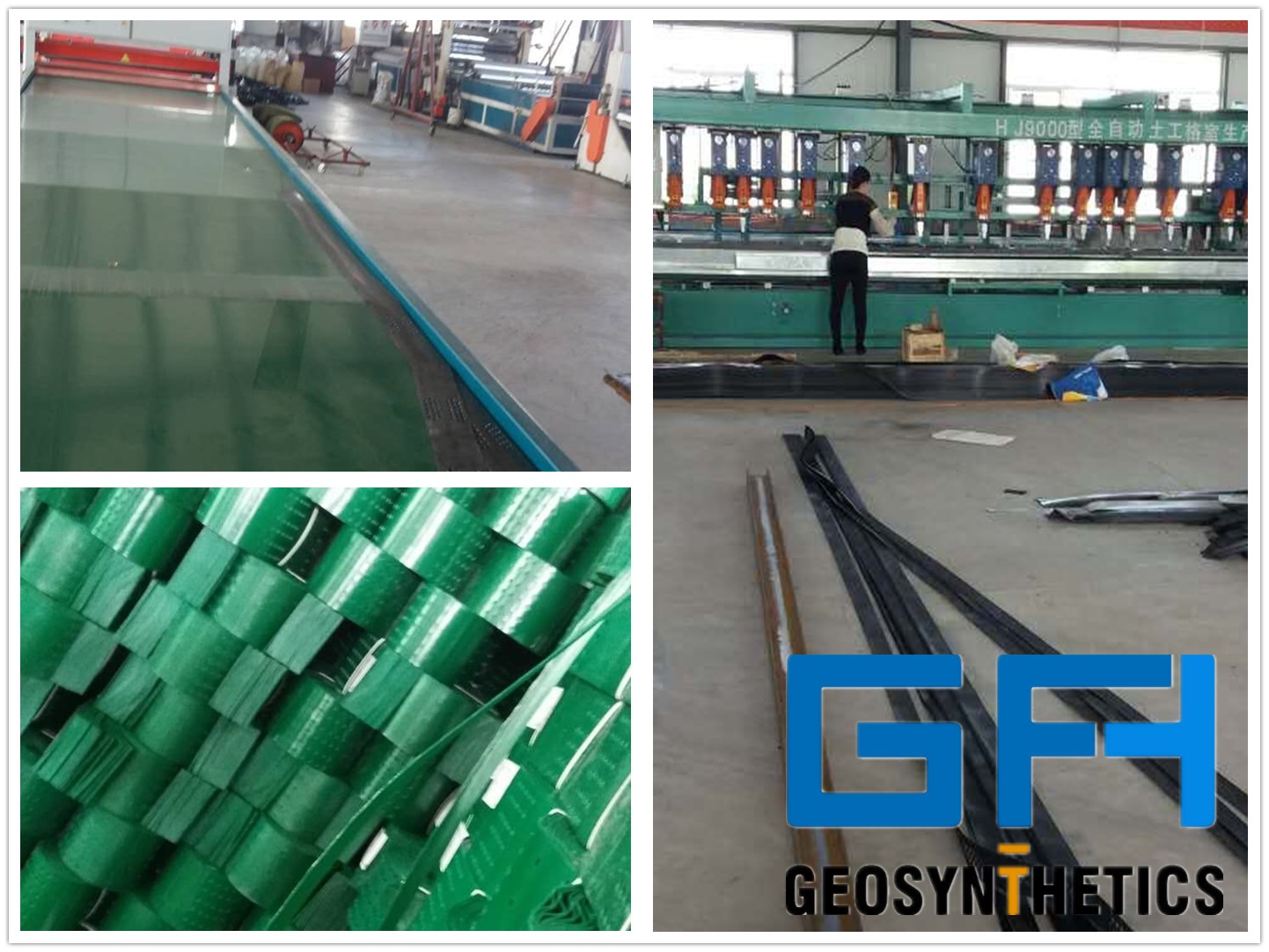 Delivery
GeoFanTex Geosynthetics have a series of package and delivery serivice working-procedures. GeoFanTex Geosynthetics have supply thousands of containers to Latin America, North America, Southeast Asia and developed countries and Africa within the past ten years. We provide the package of products with the rolls, pots, bags, sheets or your requirement in orders. Our company has been committed to supplying high-quality products with reasonable price and delivery in time. Deliver one 40'HQ within 7 - 10 days. And we have obligation in increasing loading quantity and make you save the freight costs maximumly. We supply the products by plane , by sea and land carriage to any regions or any countries of the worldwide, even the door-to-door service.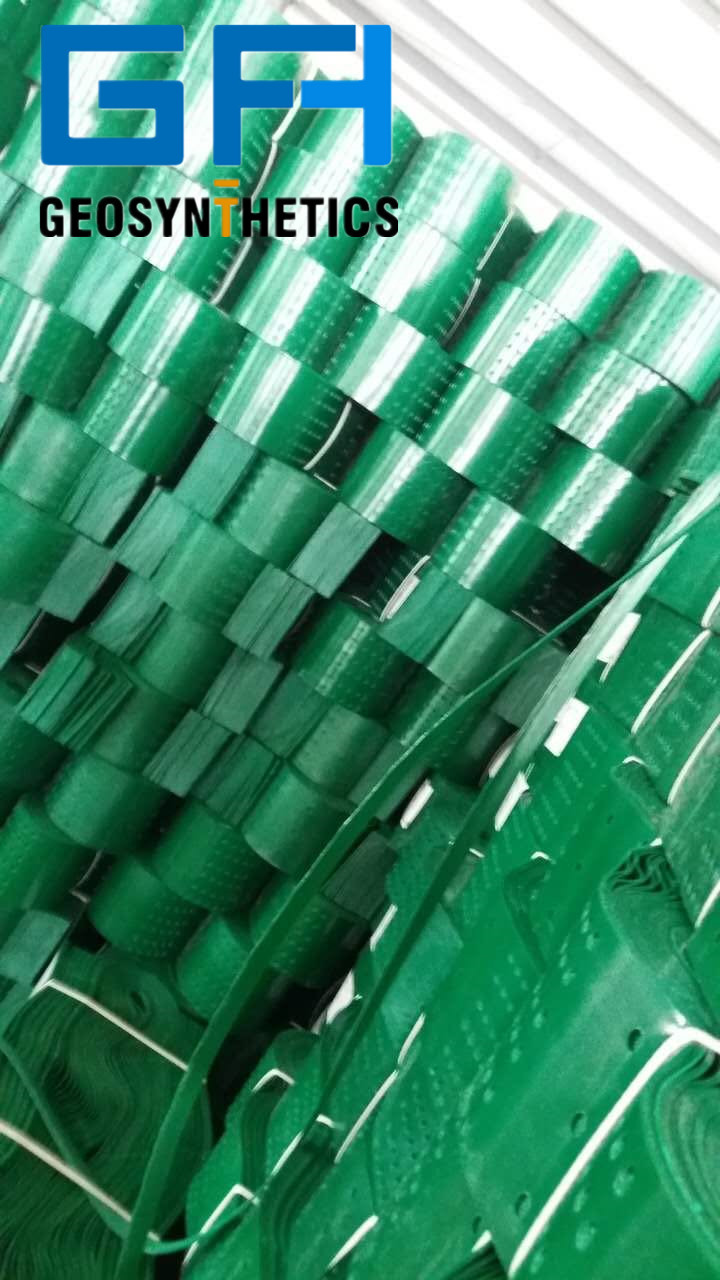 Please contact us info@geofantex.com if you need more.